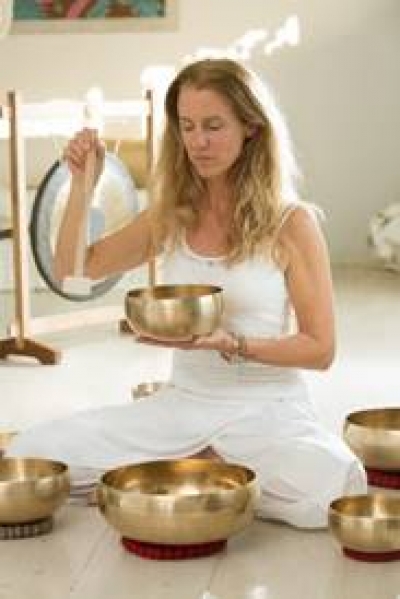 Tradition:
Thérapie par le son
Organisation:
Peter Hess Academy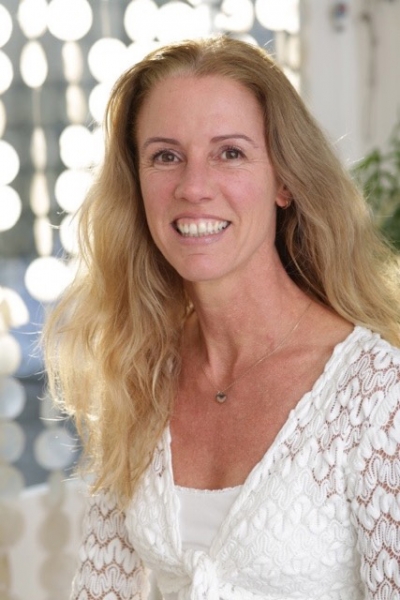 Janine Gabelmann vient d'Allemagne pour animer cette master class au Yoga Festival Paris. Formée par Emilie Hess dans le cadre du travail fait par la Peter Hess Academy.
Vous lirez son curriculum impressionnant : certifiée en Ayurveda et en bien-être holistique, professeur de yoga kundalini et en méditation, elle a pratiqué aussi toute sorte de yoga. Egalement professeur de Yoga du Son et de massage sonore avec Peter et sa fille, Emily Hess).
Autant d'expérience et de sensibilité qu'elle souhaite partager avec nous!

"I love life and i feel very grateful to have the posibility to learn, discover and experience what I am interested in and what is fullfilling my life. I feel more than blissed if I can share my experience in Yoga and Sound.
To me it is very important to notice, respect and encourage the uniqueness and potential of every being. (What is good for one might not be good for the other)
So here I like to tell You some steps of my life: Already as a child I loved to dance, to sing, to move, to do gymnastic and to be in nature. Spirtuality has always been natural to me, where my beloved grandmother was my best teacher. I did'nt like school and I was hungry for life. For many years I enjoyed an exiting life in the fashion business, traveling the world as a hair & make up artist what became very stressful and was not realy fullfilling me any more. There it came to a point where my body, mind and soul lost connection and my body stoped me with physical illness. Looking back, I am very thankful for that. That was the sign to change my lifestyle.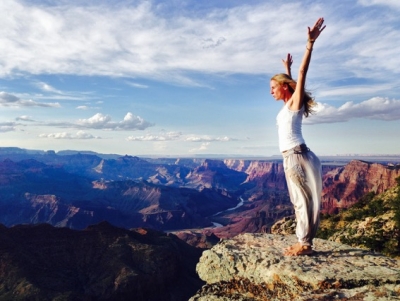 Here i feel very guided by Ayurveda, Yoga and the Soundmassage. To me Yoga and Ayurveda is a wonderful lifephilosophy.
- 2007 - I studied and certified as a "Holistic Ayurveda and Wellnesstherapist" (studied at Rosenberg,European Academy of Ayurveda) - 2008 - I certified as a "Kundalini Yoga and Meditation Teacher" (by Yogi Bhajan, 3HO/KRI). (After many years of practice.) - I appreciate and practice traditional and modern styles of Yoga. More and more I release myself from dogmatic structures, which sets me free to let it flow. -To define my Yoga I constantly visit trainings and seminars (Vinyasa, Yin Yoga, Restorative Yoga, Sat Nam Rasayan, Shakti dance ...
- 2015 - I was very honored to meet Emily Hess where I studied, assisted and certified to Emily Hess - Sound of Yoga" Teacher.
-2015 + 2016 i studied "Peter Hess- Sound Massage" with Peter & Emily Hess./ PHI "Basic Trust" with Emily Hess - 2017 - "Relaxing Coach for Fantasy and Sound journey" / PHI - 2018 - Yin Yoga Immersion (Helga Baumgartner). I teach and lead "Emily Hess -Sound of Yoga" Retreats and Teacher -Trainings / international and also teach workshops, for example "Yoga and Art", "Just be" mindful ... In my space "surrounded by bliss" i love to treat women with Ayurvedic treatments, Sound- massage ,Yoga and more. Beauty in and out.
So one flows into another, and I don't want to miss one pearl in this wonderful treasure which I would love to share with You."
Ateliers
Lundi 15 octobre